Our priorities are to help young people reach their potential through educational support, and to improve access to fresh water and sanitation through the HSBC Water Programme
In Hong Kong, we have a long history of supporting community initiatives. In 1905, the bank made a HKD50,000 donation for the construction of the first university in Hong Kong; and in 1965, the HSBC Social Work Scholarship Scheme was started through endowment funds donated to the University of Hong Kong and the Chinese University of Hong Kong.
Hongkong Bank Foundation
Many community projects in Hong Kong are funded by the Hongkong Bank Foundation charitable trust. It was founded in 1981 by the Hongkong and Shanghai Banking Corporation Limited to co-ordinate its community support programmes in the Hong Kong Special Administrative Region (Hong Kong SAR). Since 1997, the Foundation has also been donating to programmes that benefit mainland China.
The Foundation supports about 200 community projects each year, helping more than 800,000 people. It has donated more than HKD1.4 billion to projects in Hong Kong and China since its inception.
Its principal interests are education, community, environmental protection, and enhancing links between the Hong Kong SAR and mainland China.
Read more information about the type of projects we fund and how to apply here:
How to apply for Hong Kong project funding (2-page PDF 20KB)
How to apply for Mainland project funding (2-page PDF 19KB)
Education
Globally we invest about USD50 million a year in education projects. In Hong Kong, HSBC commits HKD10 million each year to providing scholarships for 180 Hong Kong students under the following schemes:
The HSBC Overseas Scholarships Scheme provides full scholarships for local students to spend one academic year at some of the world's top universities
The HSBC Hong Kong Scholarships Programme benefits students from 12 universities/tertiary institutions
The Innovation and Technology Scholarship Award Scheme is a partnership with the Government's Innovation and Technology Commission and is organised by the Hong Kong Federation of Youth Groups
The HSBC Social Work Scholarships Scheme, offered to six local universities, aims to recognise students who are dedicated to the social work profession
The HSBC Hong Kong Academy for Performing Arts Mainland China Study Programme enables 60 Hong Kong students to study in mainland China
HSBC is a supporter of the Chevening Scholarship and has enabled a number of postgraduate students to study in the United Kingdom
The bank also sponsors the University of Hong Kong to organise a regional business case competition , as well as the HSBC Financial Dialogue Series , an annual programme of talks and workshops which aims to inspire 200 business and economic undergraduates in Hong Kong to become the next generation of financial leaders.
Junior Achievement (JA)
HSBC is a global partner of JA Worldwide , the world's largest organisation dedicated to educating young people about financial literacy. In Hong Kong, JA Company Programme gives secondary school students hands-on experience in running their own business. Each year, about 80 secondary schools join the programme and some 40 HSBC employees volunteer as their business advisors. At a trade fair, usually held in December each year, student companies sell their products to the public and compete for various awards.
Future First
HSBC's flagship global programme Future First aims to tackle child poverty through education projects. In Hong Kong we work with the following charitable partners:
The Society for the Aid and Rehabilitation of Drug Abusers provides interactive English learning workshops, tutorial classes and activities for 70 children of methadone users.
The Hong Kong Family Welfare Society launched the "Happy Kids" programme to enrich the skills and knowledge of children from deprived families through workshops, classes and outings, to enhance family functioning and harmony, and to develop their sense of responsibility and community.
Kids Read
Kids Read is an English language-learning programme that aims to encourage primary schools students to read for pleasure, which opens up a world of learning opportunities about culture, diversity, communication, financial literacy and the environment. Kids Read, organised by British Council and supported by HSBC, was launched in Hong Kong in 2015.
Speak for Success
Organised by the Vocational Training Council and funded by HSBC, Speak for Success is a seven-month student development programme to improve communication and interpersonal skills.
Environment
The USD100m global HSBC Water Programme improves fresh water provision, protection, and education around the world by partnering with Earthwatch, WaterAid, and WWF. The Programme also supports other local organisations to provide freshwater to 32 locations, including an industrial water management support project managed by the Hong Kong Productivity Council in Guangdong.
Raising environmental awareness through citizen science
In 2011, the Kadoorie Institute of the University of Hong Kong established the city's first Global Forestry Observatory. Under the HSBC Water Programme, hundreds of HSBC employees are being trained as Citizen Science Leaders (CSLs) to support local freshwater research by the Open University of Hong Kong and contribute freshwater scientific data to The Water Hub. The Global Forestry Observatory includes a 20-hectare plot for an international climate change research project led by Harvard University and a one-hectare plot to train employee and public volunteers to conduct tree surveys.
More recently, we are supporting the Hong Kong Organic Resource Centre at the Hong Kong Baptist University to convert existing green roofs into urban organic farms, in order to promote local and sustainable foods. Students are involved as mentors and ambassadors in the Programme.
HSBC also supports the Hong Kong University of Science and Technology to promote air quality and public awareness of climate change and air pollution in the local community through a school-based science to action project. Project Community EXPLORE installs locally developed air quality monitoring technologies on campus and provides funding for student participants to devise solutions to air quality issues.
Revitalising a traditional village through eco-agriculture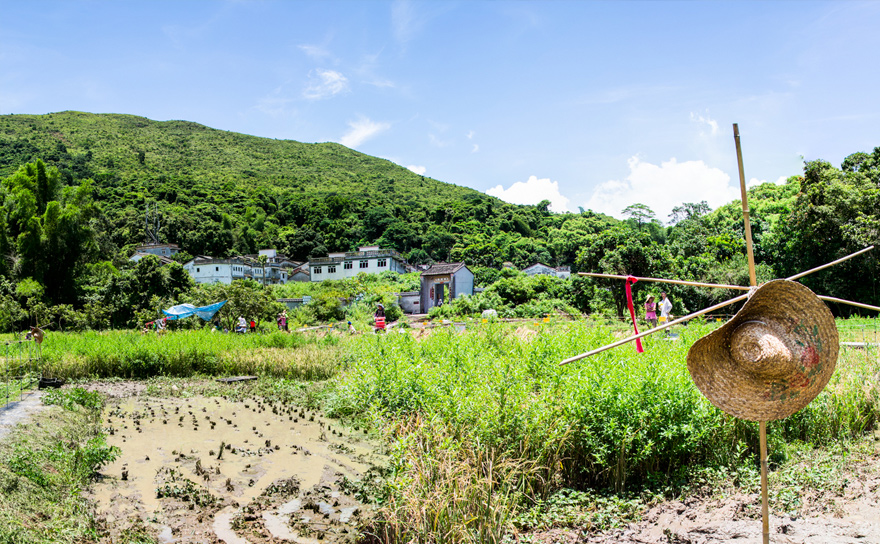 The Kadoorie Institute of the University of Hong Kong and three other local environmental charities are turning abandoned farmlands in Lai Chi Wo (near Sha Tau Kok) into an eco-agriculture and water management demonstration hub, with an education centre and volunteering opportunities. Lai Chi Wo is one of the best kept traditional Hakka villages in Hong Kong with an unique heritage conservation value.
Conserving biodiversity through wetland management and volunteering
The Mai Po Nature Reserve, managed by WWF Hong Kong, is a local biodiversity hotspot – a region that supports the livelihoods of many species but at the same time is threatened with climate change impacts and human interference. The last inventory of Mai Po wetland resources was taken more than 30 years ago. With HSBC funding, WWF Hong Kong will teach students, teachers, and citizen scientists to conduct large-scale biodiversity surveys. It will raise public awareness of biodiversity conservation and provide scientific and management recommendations to the government from 2015 onwards.
Community work
HSBC helps the local community with donations to community groups and staff volunteering.
The HSBC Community Partnership Programme
This programme funds a range of projects organised by charities. Initiatives that improve social participation among disadvantaged members of the community, such as those with a disability, the elderly and single parents, are given priority. In 2014, HKD18 million was allocated to community initiatives across 18 districts in Hong Kong.
District Community Programme
The District Community Programme was established by the Hongkong Bank Foundation in 1992 to support small-scale community projects organised by registered charities, voluntary agencies or schools. It provides maximum funding of HKD50,000 for each project and has donated about HKD74 million to more than 7,900 projects.
The Community Chest of Hong Kong
HSBC is a founding donor of the Community Chest of Hong Kong which was set up in 1968 and has raised more than HKD270 million. Employee donations to the Chest are matched dollar-for-dollar.
Besides funding, HSBC senior executives also join the Chest's board and committees to offer advice and support on strategic policies and fund-raising initiatives.
Social innovation and entrepreneurship
We have been supporting the flagship Social Enterprise Summit since 2009, and have partnered with the Hong Kong Council of Social Service for the HKCSS-HSBC Social Enterprise Business Centre since 2008, providing help to more than 400 organisations in Hong Kong. Follow this link to the HKCSS-HSBC Social Enterprise Business Centre website: http://socialenterprise.org.hk
HSBC Volunteer Scheme
Established in 1993, the 3,000-strong HSBC volunteers team undertakes more than 100 projects each year to help young people, single-parent families, ethnic minorities, elderly people, patients and people with disabilities in Hong Kong. Their work contributes some 75,000 hours of community service each year.